Adults with developmental disabilities rarely get to socialize with people outside of their immediate family. This contributes to a strong sense of loneliness and isolation. Because of this, activities where they can be around kind, friendly people are extremely important to their well-being. Dancing can be therapy in itself by providing them with movement, laughter, and a high-energy atmosphere. So, let's give them a night to remember!

WHAT: March is National Developmental Disabilities Awareness month, so we are collaborating with the Cuyahoga County Board of Developmental Disabilities to host a spring dance! To get everyone excited about the Cleveland Indians Opening Day, we will be celebrating with a fun baseball theme. Volunteers will help with a variety of activities, such as craft stations, putting on temporary baseball tattoos, welcome party and hand out raffle tickets, serving food to guests, and being on the dance committee!

WHEN: Friday, March 23rd, 2018 from 5:30PM- 8PM
5:30- 6:00PM- Registration and set up
6:00- 8:00PM - Dance with a live DJ and raffle
6:15-7:15PM - Dinner service (Chick-Fil-A buffet)

WHERE: Rocky River Memorial Hall (in their main event room)
21016 Hilliard Blvd.
Rocky River, OH 44116

WHO: Max of 25 volunteers needed (must be 18 years or older)
Please feel free to wear your favorite Cleveland Indians shirt or jersey!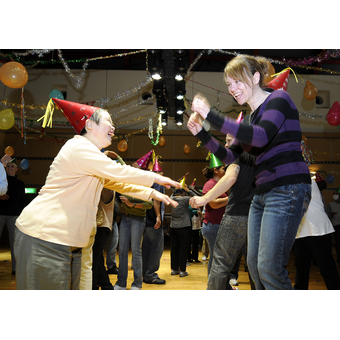 Rocky River Memorial Hall (21016 Hilliard Blvd, Rocky River, OH 44116)