MedWish International is a non-profit organization committed to the recovery and recycling of donated medical supplies that area healthcare providers must discard.. These life-saving supplies are made available to those providing medical care in developing countries throughout the world. Together as a Chapter we will volunteer to help save lives by sorting medical supplies to be donated and sent around the world!

WHAT: Join us as we volunteer at Medwish international to help sort, label and pack medical materials.

WHEN: Saturday December 16th from 1:00 PM to 3:30 PM.

WHERE: Medwish International is located at 1625 East 31st st. Cleveland, OH 44114.

Special Driving Directions: Special Driving Directions: MedWish is located at the corner of E. 31st Street and Payne Avenue in MidTown Cleveland.The visitor entrance is located at 1625 E. 31st Street, Cleveland, OH 44114. Parking is available on the street in front of the building or in the small lot next to the building. .

WHO: We are looking for up to 20 volunteers to help at this event. Volunteers must be 15 years or older. Volunteers under the age of 16 must serve alongside a parent/guardian.

All volunteers should wear comfortable clothes that they don't mind getting dirty, as well as closed toed shoes. Also, please leave valuables at home, and bring a water bottle to refill while working.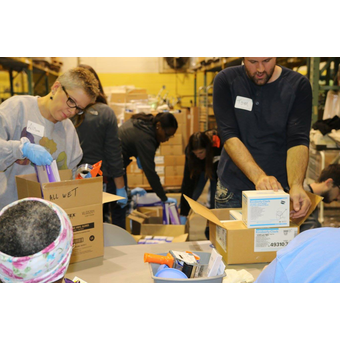 1625 E 31st St, Cleveland, OH 44114, USA