More than 2 million individuals in Ohio are unsure of where their next meal will come from. Throughout Northeast Ohio, one in six people is food insecure – meaning they do not have reliable access to sufficient guantities of food. In fact Cuyahoga County had the highest number of food insecure residents in the state of Ohio in 2015. The fight to end hunger cannot be done alone. Let's help change that as we team up and support the Greater Cleveland Foodbank.

WHAT: Join us as we volunteer as a Chapter at the Greater Cleveland Foodbank. Volunteers are needed to help sort and repack nonperishable food that is later distributed to local food pantries, soup kitchens, and shelters.

WHEN: October 21st from 8 AM to 12:00 PM.

WHERE: Greater Cleveland FoodBank located at 15500 South Waterloo Rd. Cleveland, OH 44110.

WHO: All volunteers must be at least 12 years of age. All volunteers under the age of 16 must be accompanied by an adult. We have 20 spots available for this opportunity.

REGISTER HERE: http://cerv.is/m?0136gnjpPwx
* If you would like to register additional individuals for this event, please select their name from the list and enter the code below into the "Event Registration Code" field. Next, click the "Register for selected event" button to complete the additional registration.

Event Registration Code: njpPwx

Please remember to wear closed-toed/closed-heeled shoes!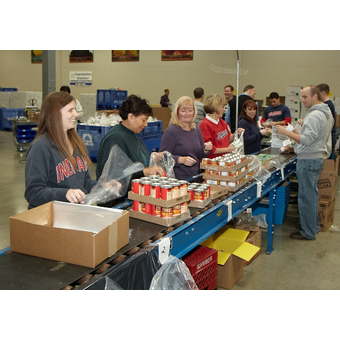 15500 S Waterloo Rd, Cleveland, OH 44110, USA