-LEARNING TOPIC: Character Education
Character education is as old as education itself. Throughout history, all over the world, education has had two goals: to help young people become smart, and to help them become good. However, is character something that can be learned or does genetics play a much larger role? What does it actually take to become a person of good character?
Join us for our August Meetup to dive into deep discussion about your vital role in Character Education in shaping our next generation and learn ways you can improve yourself.

-PERSONAL DEVELOPMENT: Come to the Meetup to work on your personal commitments. Share your promise with your small table of five and get feedback in a supportive environment.

-UNIFIED PROMISE: August 12th - Every Child Deserves a Birthday!

-SNACKS & BEVERAGES: As always, we will be providing food and drinks.

---
Location: Our monthly Meetup will be at Magnificat High School, 20770 Hilliard Blvd, Rocky River OH 44116

We will be meeting in the "LGI" Room at Magnificat High School. The LGI is located through the front door of the school by Hilliard Blvd. Once you enter the building turn right and then left down the hallway. The room will be on your left. There will be a because I said I would sign on the front doors and someone will be there to help you should you need it.

Parking: Entering the school property from Hilliard Blvd, there are Magnificat signs that mark the two front entrances, once you turn onto school property parking is available in the front of the school the Main (south) entrance off of Hilliard Blvd.

Entrance: After arrival and parking, look for a because I said I would staff person at the entrance marked with a because I said I would Cleveland Chapter sign.

Chapters are a volunteer-driven community effort that need committed people like you. Together, members in the Chapter identify and assess needs in their community and design impactful promises to meet those needs. It can be something as simple as committing to a certain number of hours cleaning up a neighborhood park, to volunteering to help a local nonprofit's ongoing efforts, to larger projects like establishing a mentor/tutor program to support children/students in need or establishing a self-sustaining program to help fund a homeless shelter.

For the latest information on the Cleveland Chapter, please visit http://cleveland.becauseisaidiwould.com/

Because I said I would is a 501c3 non-profit. Our mission is to strengthen humanity's will. Because I said I would encourages and supports making and keeping promises to end suffering, establish peace and build happiness. We created the Promise Card to help hold people accountable to their commitments. Please join us as we change Cleveland and the world for the better!

Please feel free to post your questions to the Cleveland Chapter FB page! Attendees to Chapter Meetups must be 18 years or older.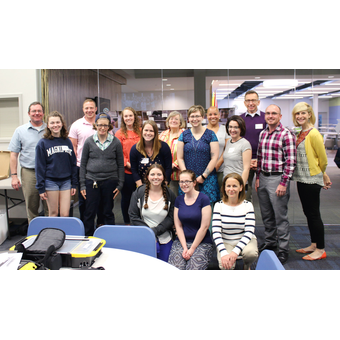 Magnificat High School (LGI Room) - 20770 Hilliard Blvd, Rocky River, OH 44116, USA