If you don't think human trafficking happens in your zip code, think again. Human Trafficking is the 2nd leading crime in the world — including the U.S. The majority of trafficking occurs in hotels and motels. The only time some sexual slaves can be alone is in the bathroom.

Join us as we take action against human trafficking by packing and delivering soap with a number to call for help for victims being trafficked at hotels. The National Human Trafficking Resource Center hotline reports that Ohio had the sixth most calls reporting trafficking of any state. On average, at least one missing child is identified by hotel staff during each outreach.

This Unified Promise will start with training where we will learn Human Trafficking 101 led by Megan, our very own Communications Volunteer for the Cleveland Chapter. This will include a thirty-minute documentary about Therese Flores, Founder of S.O.A.P. - Save Our Adolescents from Prostitution. After the documentary, there be a presentation and training on how to deliver the soap to area hotels and motels.

Thousands of bars will be labeled with with a red band that gives the National Human Trafficking Hotline number with your help. We need 20 volunteers to reach our target of labeling 5,000 bars.

After labeling, we will have the opportunity to offer the soap free-of-charge to hotels and motels and training to be able to identify and report sex trafficking if they see it in their establishments. Bars will be delivered in teams and the route is pre-determined by our nonprofit partner, S.O.A.P. Cleveland. 83%-100% of all hotels accept the labeled soap during an outreach and almost 100% of the hotels take the missing children poster and trafficking educational materials.

Food will be provided for during the Unified Promise. Wear comfortable clothes. Come prepared to give hope with each bar of soap.

This Unified Promise is in support of S.O.A.P. Cleveland. Their mission is to increase awareness in the public on the prevalence of human trafficking, in order to restore trafficked survivors and to prevent teens from being victimized by domestic, minor, sex trafficking. To date, over 100,000 volunteers have labeled and given out soap and nearly 1 million bars of soap with the national human trafficking hotline number have been given out nationwide.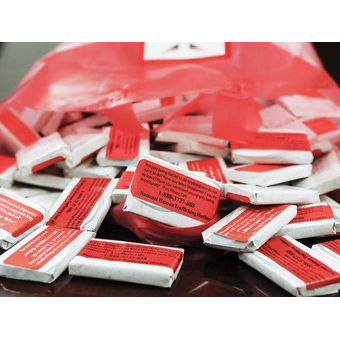 Cleveland Public Library (Walz Branch) - 7910 Detroit Ave, Cleveland, OH 44102, USA