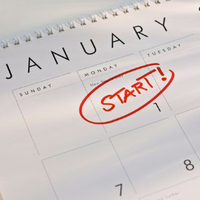 The History of the New Year Promise

Every year millions of people around the world make their New Year's resolutions. But where did the tradition originate?

At this month's meeting we discussed the history of the New Year's promise, and completed an exercise to help generate ideas for New Year's resolutions. Good promises take good planning and careful consideration, so the exercise was designed to help members come up with meaningful ideas for their New Year's Promise.


Feeling unsure about what you want to commit to in the New Year? Try the New Year's Promise Idea Generator yourself! Click below to download the sheet!

CLICK HERE TO VIEW NEW YEAR'S PROMISE IDEA GENERATOR EXERCISE



| | | |
| --- | --- | --- |
| | | |
"There is no option."- A promise story

This month's featured promise story told the story of supporter Joel and his determination to change his life. Joel was born with a congenital heart condition that made exercise difficult ever since he was a child. He felt like he didn't have control of his life, so he would find comfort in something he could control: Eating.

Joel was 420lbs at the time this video was recorded. His food addiction had spiraled out of control, but he said it wasn't fair to his friends and family. He said "There is no option." If he wanted to be around to help people who needed him, the change must happen now.


Watch Joel's story to see the promise he made to his family and friends.

CLICK HERE TO WATCH "THERE IS NO OPTION" VIDEO

This video is part of a series of promise stories from the lives of everyday people. We believe a video can convince people around the world to make a promise to better humanity. We believe this series, titled "A promise story," will inspire our followers to share their stories with us.

Looking for our other 90+ videos? CLICK HERE













| | | |
| --- | --- | --- |
| | | |
Refugee Bowling Party

On Saturday December 10th, 2016 the Cleveland Chapter of because I said I would threw a bowling party for refugees as our Unified Promise for the month.

The party was a huge success with 40 volunteers and 100 refugees in attendance! In the day alone we accumulated over 200 volunteer hours, and a priceless experience for both parties.The event was filled with fun, bowling and getting to know our newest neighbors through friendship and community.

Thank you to all of our volunteers for attending this event and making it a success.A very special thank you to the refugee families for attending and allowing us the chance to get to know their community.

We also wanted to share this lovely card created by the refugee families as a thank you to the because I said I would Cleveland Chapter for the warm welcome. Check out pictures of the card below!



| | | |
| --- | --- | --- |
| | | |
Shoveling Snow

We all know shoveling snow sucks. And unfortunately it can be dangerous for certain individuals. That is why for this month's Unified Promise we will be hosting an impromptu snow shoveling event.

Due to the nature of this unified promise, we will not know the exact date until the day before. However if you are interested in participating,you can sign up to be notified via text!

If interested please email katie@becauseisaidiwould.com with your name and phone number.



Member Recognition

Members who have attended two Chapter meetups were awarded their Second Meeting Achievement Badge on Tuesday!

We thank them for their commitment to our Chapter Program and congratulate them on their achievement. Check out all the photos from the meetup at the link below and tag yourself in any photos!


CLICK HERE TO VIEW PHOTOS



---