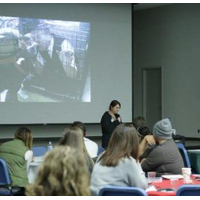 Our Next Chapter Meeting




When:

January 10th at 6:30 PM - 8:30 PM.The meeting will start promptly at 6:30 PM. We recommend arriving at 6:15 PM to allow time to sign in.

What:

The January meeting of the Cleveland Chapter of because I said I would. There is no cost to attend, but seating is limited.

Who:

You! This meeting is open to the public, 18 years and older. Amanda Messer, Co-Founder of because I said I would and your Cleveland Chapter Leader, will lead the chapter meeting.

Where:

Magnificat High School, 20770 Hilliard Blvd, Rocky River, OH 44116. Driving directions on Google Maps. For more information on parking, please click the RSVP link below.

RSVP for the January Chapter Meeting

| | | |
| --- | --- | --- |
| | | |
Stress Management

On December 6th, we discussed how to measure your stress level. Stress is an inevitable part of life, caused by many different circumstances and events.

Stress can have both a mental and physical impact on our well being. This is why it is important for us to have a plan for stress management. During our meeting we discussed 5 stress management tips to help reduce the stress and anxiety in your life.



| | | |
| --- | --- | --- |
| | | |
Chapter Member Share: Jenn's Story

Jenn made a promise to take her own life with her friend Lucky. He kept that promise. She didn't.

At this month's chapter meeting, Cleveland chapter member Jenn told her story of a promise she did not keep. Feeling ashamed for not keeping her word she distanced herself from the movement.


However she learned through our 7 Elements of Honor that it is more important to do what is right than to keep a promise. A promise to commit suicide is never a promise someone should keep.

Every day she wakes up and struggles with the guilt of breaking that promise. However her guilt and struggle with the loss of her friend led Jenn to make a new promise- one she was able to keep.

Jenn made the promise to join the Crisis Text Line, a text messaging service that helps provide support and intervention for people in crisis. Jenn kept that promise and continues to work to help others in need.

Thank you for sharing your story with us Jenn.

Want to see more stories like this from the movement?

Like our facebook page and check out more
| | | |
| --- | --- | --- |
| | | |
Welcome Party for Refugees

This Saturday, December 10th, from 10:30 am to 4:00 pm, the Cleveland Chapter of because I said I would will be hosting a Welcome Party for local refugees at Mahall's 20 Lanes! Join us for an afternoon of bowling, offering fun and friendship to our newest neighbors.

We are looking for committed volunteers that will be able to stay for the full 5 1/2 hours. Volunteers will help with setup and breakdown, but will get to enjoy bowling and most importantly getting to know our refugee guests!

Volunteer positions include the following areas:

Registration volunteers

Team captain volunteers to assist refugee families

Photography and video volunteers

Food and beverage volunteers

Virtual reality volunteers

But, most importantly, we need you to be a friend. Conversation starters kits will be at each lane to get the conversation ball rollin'! Free bowling and food will be provided for all guests and volunteers. Bring your smile and enthusiasm to make this event a memorable one. Check out the facebook event for more details by clicking below.



| | | |
| --- | --- | --- |
| | | |
Member Recognition

Members who have attended two chapter meetings were awarded their Second Meeting Achievement Badge at last night's meeting!

We thank them for their commitment to our Chapter Program and congratulate them on their achievement. Check out photos from the meeting at the link below and tag yourself in any photos!


CLICK HERE TO VIEW PHOTOS



6 Full-Time, 2 Part-Time Positions Open

Because I said I would is growing rapidly. If we are going to help change the course of human history for the better, then we are going to need to continue to build a strong team who is good at keeping promises. Check out the career opportunities below and share with those who might be qualified. Your referral could make a huge impact on our work!

Full-time in the Cleveland, Ohio area:

Part-time in Cleveland, Ohio area:

Part-time in Akron, OH or Columbus, OH:
---